First Infant care and Pre-School at Gardens by the Bay


Book your school tour today.

Located at the Bayfront Pavilion in the iconic and lush surroundings of Gardens by the Bay, the EtonHouse Garden School by the Bay will offer a unique early years programme from infant care to 6 years of age.
It is the first and only pre-school in the iconic Gardens by the Bay. An integral part of Singapore's "City in Nature" vision, Gardens by the Bay is a national garden and premier horticultural attraction that showcases the best of garden and floral artistry. To have children experience their early years in this space is truly exciting for families and educators alike.
The curriculum and environment will be specially designed and curated to be aligned with the 3 pillars - nature education, sustainability and community.
Derived from its immediate environment, the curriculum is designed for children to spend 50% of their time outdoors in the iconic spaces of Gardens by the Bay. Apart from curated programmes with nature education specialists and horticulturists from Gardens by the Bay, the school will have several exclusively created areas to offer children a unique and innovative outdoor learning experience that is unparalleled in Singapore. The Garden School is also committed to being a truly sustainable learning space that inculcates active thinking and action in the children to become change agents in their communities.
A boutique infant care programme with highly personalised care and education for infants will be offered in an exclusive space within the pre-school by handpicked teachers and curriculum experts.
The campus is easily accessible by private and public transport connections to the Bayfront MRT station, making pick-ups and drop-offs a fuss-free experience for our families.
Founding Families will get to enjoy 50% off registration fees and an exclusive 10% off first-year school fees. Limited slots available!

When the school is ready, we would like to invite you to an information session and school visit and share what is unique about our school:
Iconic spaces that include a

Supertree playground for play and exploration, which will have an explorer mezzanine deck for children to engage in sensory experiences

A biophilic play area

A bioactive terrarium

A discovery pond, a bug hotel and a sensory garden

Use of natural materials and reduce plastic use.

Plastic, paper, and fabric recycling bins and compost bins to reduce food waste

A ReAldo Lab to upcycle loose parts and other materials

A modern-day aquaponics farming programme to allow the children to experience how organisms co-exist within ecosystems in real-time. It will also include sustainability practices that will reduce waste while increasing harvesting crops, thus nurturing a natural and organic habit of mind around sustainable practices in everyday life situations

Healthy and sustainable cooking with a farm-to-table approach will also engage children in growing produce in the outdoor edible garden
Register your interest with us, and we will be in touch with you closer to the date. If you have any questions, you may also email us at gardens@etonhouse.edu.sg.
The three key pillars of the Garden School's innovative and unique programme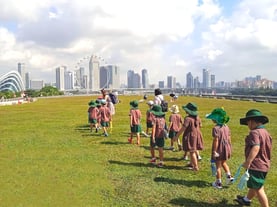 A nature school in the gardens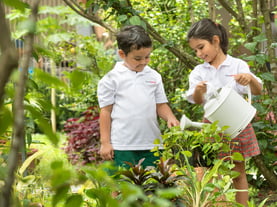 Change agents for the future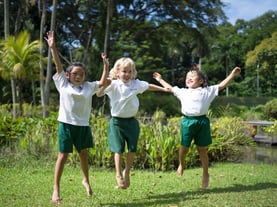 The garden is my community
"I am very excited for the many ways in which this school will make a difference in the lives of children. Not just the children in the school but also the wider community. The experience in the heart of the most iconic, dynamic, and innovative garden space, which is the pride of Singapore, will provide families and staff an unparalleled early years experience, one that will be woven intricately with nature and sustainable practices. What better way to raise a child!"
EtonHouse Group CEO

Lindie Oppermann,
Parent of Neine, Carli and Nadia
EtonHouse is an incredibly friendly environment with a lot of emphasis on relationship building, nature appreciation, the stimulation of the child's natural curiosity, and the appreciation of the child as a wonderful individual.

Kate and In Ho,
Parents of Jayhee
EtonHouse
teachers and staff are very friendly, approachable, supportive and quick to respond to any queries. The structured yet flexible curriculum allows children to learn all the skills and concepts necessary and makes sure children have fun (not stressed).

Arppanaa John,
Parent of Aadhya
EtonHouse provides an epicentre to build strong skills among kids from a very diverse environment. We are glad that we picked EtonHouse and will unequivocally recommend it to our friends and family.
What are the year levels at this school?
We offer Infant care to Kindergarten 2 for children 9 months to 6 years.
What is the year level placement?
| | |
| --- | --- |
| Age Group | Year Level Entry |
| 9 to 18 months | Infant care |
| 18 months to 2 years | Pre-Nursery |
| Child turns 3 for the year | Nursery 1 |
| Child turns 4 for the year | Nursery 2 |
| Child turns 5 for the year | Kindergarten 1 |
| Child turns 6 for the year | Kindergarten 2 |
What is the teacher-child ratio?
| | | |
| --- | --- | --- |
| Age Group | ECDA ratio | EtonHouse ratio |
| Infant care | 1:5 | 1:2 |
| Pre-Nursery | 1:8 | 1:4 |
| Nursery 1 | 1:12 | 1: 6 |
| Nursery 2 | 1:15 | 1: 10 |
| Kindergarten 1 | 1:20 | 1:12 |
| Kindergarten 2 | 1:25 | 1:12 |
Can we visit the school?
Yes, we will be hosting in-person tours after the renovation is completed and we warmly welcome you to visit our new campus. Kindly fill up this form to register your interest.
Are meals provided in school?
At school, the children will receive morning tea, lunch and afternoon tea to ensure they are stoked up and ready for their best learning. Our schools serve 3 types of meals: Non-vegetarian (consists of chicken, fish, egg and vegetables), Vegetarian (consists of protein-rich vegetarian sources and eggs) and Special Meal which consist of options such as Dairy-free, Gluten-free, egg-free. The menu is developed in consultation with nutritionists and varies on a weekly basis to encourage children to try new and different types of food. The menu is shared with the school community and feedback is obtained on a regular basis.
What are the school hours?
We offer childcare services at EtonHouse Garden School by the Bay. Hours will be from 7am - 7pm.
Will I be able to enjoy any government subsidies?
EtonHouse Garden School by the Bay is an ECDA Pre-School. Government subsidies are applicable to Singaporeans.
Is there sibling discount?
Yes, we offer sibling discount(s) when more than one child in the family is enrolled with any campus under the EtonHouse brand (excluding EIS International Pre-School Pte. Ltd.). The 10% discount will be applied to the sibling(s) with the lower school fees.
Can I transfer my child from another EtonHouse campus?
Yes, this is possible. Kindly get in touch with the parent liaison team with your existing school to find out more.
About us
There are 14 EtonHouse campuses located island-wide, offering outstanding programmes from infant care, pre-school, primary, secondary and high school. EtonHouse has an excellent track record of outstanding graduates who have excelled in both international and local schools, establishing themselves as confident, intellectually curious and effectively bilingual.