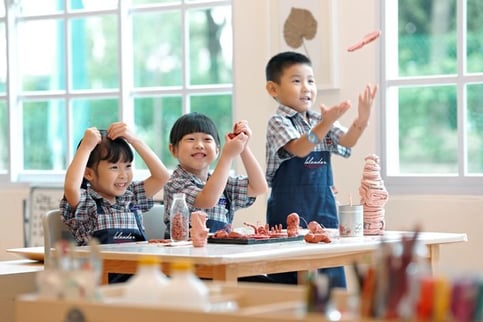 Islander Pre-School caters for children from Pre-Nursery (18 months) to Kindergarten 2 (6 years old).
You can book a tour to find out more about how this school may be the best-fit school for your child!
Its lush and tranquil surroundings are perfect for inspiring young minds.
Inquiry-based curriculum

Our inquiry-based curriculum respects children as creative and curious individuals. Our educators listen, observe, and plan learning experiences that respond to each child's needs, interests, and ideas.


Strong bilingual programme

Our curriculum places equal emphasis on English and Mandarin — children are exposed to Mandarin on a daily basis from as young as 18 months old so they grow accustomed to thinking and speaking in both languages.


Inspiring learning environment

The beautiful campus has classrooms flooded with natural light, a spacious garden, a pond, and even well-loved school pets such as ducklings. Learning spaces are inviting with diverse materials, inspiring children to explore their surroundings and challenge their thinking.


Home-school partnership

We maintain close and open communication with our community of parents. We keep personalised portfolios for each child with detailed observations about his or her development and continually update parents through emails, newsletters and parent-teacher conferences.
Register your interest here and we'll be in touch with you soon.
Glimpse into Islander Pre-School